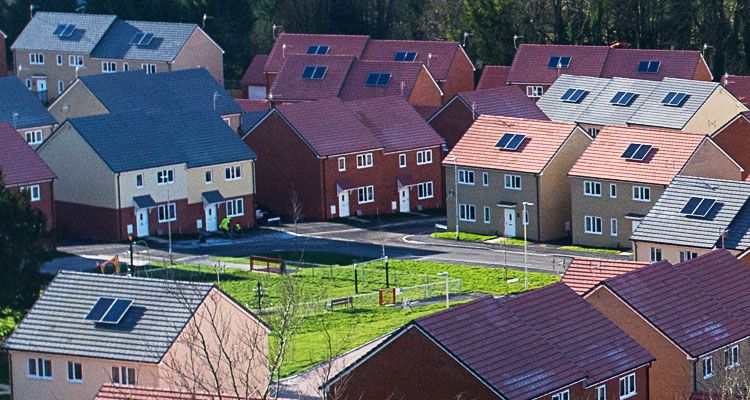 322 houses at Tidworth for Hill Group
Housebuilder of the Year and 5 Star Home Builder, Hill Group nominated Nuspan to deliver their floors for 322 houses in an 18 month program at Tidworth for the Defence Infrastructure Organisation.
Hill, who receive many house awards for their design and quality, designed each of the 3 and 4 bed homes with the Ministry of Defence's requirements in mind, Nuspan simultaneously modified the precast insulated floors with flush sides to the perimeter of the homes to allow for the timber frame to be fixed securely. Further manufacturing adjustments included service lines within the slabs to allow for the provision of only a levelling compound rather than a screed which helped keep to the tight schedule. The Nuspan installation achieved an average of 8 plots per visit, giving immediate safe access to follow on trades.
'Programming and the rate of build was our biggest challenge. We had 18 months to deliver 322 units on behalf of our mutual client and in order to help secure success, we understood the importance of offsite fabrication and streamlined site installation processes such as Nuspan flooring solutions.

The daily installation rate far exceeded outputs associated with both traditional block and beam and raft construction methods. With Nuspan being a 'pre-insulated' product, we were also able to remove the screeding operation and drying times allowing internal trades to progress immediately once weather tight.

In addition to accelerated installation rates, Nuspan offered a space saving alternative. Block and beam is often procured in full artic loads meaning space on site is allocated for storage when being installed by the groundworks contractor.

There are cost savings to be factored in and internal values transferred from insulation and screeding budgets. The true saving to the job was on guaranteed delivery and installation processes allowing an accelerated build programme.

Nuspan have 'Good quality product delivered with an excellent services. The installation crews were professional and competent.' 'Based on installation of 300m2 per day, we believe by installing the Nuspan product we have saved circa 15-20 working days verses block and beam.

With housing demand continuing to outstrip supply and the government's desire to push house building outputs over the next parliamentary period, we understand the need to invest in MMC. The industry wide shortage of apprenticeships and access to a skilled workforce also factors heavily on the businesses decisions to proceed with factory assembled components.

We believe that strong relationships have been forged during the Tidworth project and we would happily consider Nuspan as a standout performer and a valued member of our supplychain. We hope that this relationship can continue to grow for the benefit of both companies.'

- Project Director, Ryan Harris comments why he chooses Nuspan floors.
Tags: Case Studies